Home
Talk

0
65pages on
this wiki
An online directory of petanque clubs, groups, and terrains in the USA.
The Directory (organized by state)
What is petanque?
Petanque, pronounced "pay-TONK", is one of Europe's most popular outdoor games. It is a cousin of the Italian bowling game called 'bocce'. The game originated in the South of France in 1907.
The aim is to toss, or roll a number of hollow steel balls ("boules") as close as possible to a small wooden target ball (the "jack" or cochonnet - "piglet"). Players take turns and the team that ends up nearest to the target ball when all balls are played, wins.
Unlike horseshoes, where the target stake is fixed, petanque's target ball may be hit and moved at any time, which can completely upset the score at the last second. And whereas official 'bocce' rules call for a smooth, prepared court with markers and sideboards, petanque can be played on most outdoor surfaces, without any setup.
No previous athletic skill is required. It is easy to learn, adults can play with children, and the equipment is inexpensive. It is relaxing, lots of fun, and a perfect way to make new friends.
For more information visit Petanque Portal USA.
What is the American Petanque Directory?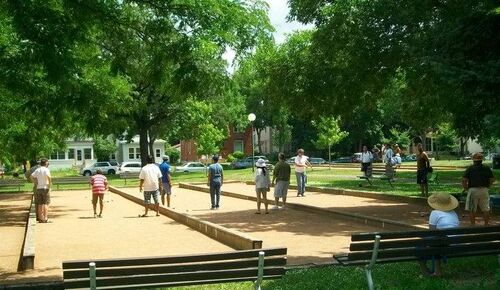 The American Petanque Directory is an online directory of petanque clubs, groups, and terrains in the USA.
It is implemented as a wiki. This means that visitors to the Directory have the ability to update the entries in the Directory. 
In centrally administered web sites, the site administrator eventually becomes a bottleneck to keeping the site updated and current. Wiki technology removes the bottleneck by making it possible for individuals to update and maintain the information. If you know of something that needs to be added, you can add it. If you know of something that needs to be corrected or updated, you can change it.
This is the same model used by Wikipedia.  If you are not familiar with the concept of a wiki, this short YouTube video explains the basics, and you can consult the Wikipedia article on wikis.
How to edit or update the Directory
If you know of a petanque club that is not yet listed in the directory, please edit the wiki and add an entry for it. If you have a correction, addition, or update to an existing entry, please make it.
Our only request is that before you edit the Directory, please read the Guidelines for updating the American Petanque Directory.
Kinds of things that are listed in the Directory
A petanque club is an organized group that has its own web site, blog page, Facebook page, or MEETUP.COM page. Information about the club is provided on its web page, so the directory usually provides little information other than the address (URL) of the club's web page.
A petanque group is an informal group that does not have its own web page. The typical group has a terrain where it plays regularly, and a regular day and time when it plays. The directory listing for the group may give a contact telephone number or email address, but in many cases the best way to contact the is simply to show up at a place and time when the group is playing, and introduce yourself.
A petanque terrain is a location that is suitable for playing petanque. It might be an area in a park, or a petanque court in a hotel or apartment complex, or just about any place that would be a good place to play. It has a location, and it may have a web site... for example a park might have a listing on the web site of the local parks and recreation department.
A petanque player is a person who is seeking other petanque players, in a city where no petanque club or group is listed. Contact information may include an email address, telephone number, or personal web page such as a blog or Facebook page.
Kinds of things that are NOT listed in the Directory
Event announcements (such as announcements of upcoming tournaments), announcements of personal plans, personal status updates, etc. For those kinds of things, we recommend Facebook
"personals"-type communications (petanque player seeking petanque player). For those, we recommend Craig's list
Does your group need a web presence?
It depends. Do you want other people to be able to find you? Are you interested in gaining new members?
If you answered NO to these questions, then your group does NOT need a web presence. If you answered YES to any of them, then read on.
In the past people used many different tools to find things — the yellow pages, the white pages, magazine ads, the newspaper classifieds.  Today, all of those tools have moved to the Web, and the Web is where people go to find things. So if you want your group to grow, or to stop shrinking, or if you want to find new friends and new players, your group needs to be "on the web".
One easy way for your group or club to be "on the web" is simply to have an entry here, in the American Petanque Directory. But even if your group is listed here, it is also useful to have your own web page. A web page (a) allows people to find your group or club in the easiest way — by using a search engine such as google, Yahoo, or Bing, and (b) it allows people to contact you via email, without exposing your email address to spammers.
It is fairly easy to create a web page for your group. You don't have to be a computer geek, and your group doesn't have to be a full-blown "club". Best of all — it can be done for free.
We've written up a set of instructions on how to set up a web page — see our blog post on How to make a web page for your club. If your club would like to have a web page, but is afraid that it doesn't have the technical skill to do it, we can lend advice and a helping hand, or even create a web page for you. Just send us email at our contact page.
Help us spread the word about the Directory
In order for the Directory to be truly effective, petanque players in the United States must be able easily to find it via Web search services such as Google, Yahoo, and Bing.
You can help search services find us by adding a link to the American Petanque Directory on the home page of your blog, web site, or Facebook page. When you link to us, you tell Google and the other search engines that you think we are worth linking to. And that makes us show up when people search on words like "petanque".
Adding something as short and simple as the following text will help us a lot.
For a directory of American petanque clubs, visit the 
<a href="http://american-petanque-directory.wikia.com">American Petanque Directory</a>.

How to contact our site administrator
The owner of this wiki is Jules Lenoir, president of the American Petanque Association.
To communicate with him, you can add your message to the Message_Wall:Jules_Lenoir page.
Or you can send him an email message via the CONTACT page of the American Petanque Association.
See latest editing activity
Go to the Activity Viewer page.