Athens - Le Boule Dawgs Edit
As of March 2017 Le Boule Dawgs appears to be intermittently active. For more information, see THIS on the Facebook page.
A possible successor (or continuation) of Le Boule Dawgs is the Athen Petanque Club (see below).
Here is some background information on the group.
---
Le Boule Dawgs is a group of (mainly) UGA Lamar Dodd School of Art MFA Graduate students/former MFA'rs who would play weekly Petanque games on the course behind the DOC building on Barber Street (behind 1000 Faces Coffee). It was started by internationally known artist Paul Kos (along with a group of MFA students) in 2008/09, and has been kept up since. Every week, MFA students, artists, weirdos, (and who ever else was interested) would play rounds of petanque, as they socialized, decompressed, complained, discussed art, etc. Participation in the weekly games has ebbed and flowed during the years, but Le Boule Dawgs is something that is very special and will continue. If possible please use the course behind the DOC building and take care of it— it was made for this purpose, and we have permission from the folks who own the land, as long as we are responsible. It is a magical spot, with the train passing through and beautiful view of the sky. There should be rakes on the left side of the Le Petanque mural, leaning up against the building. It occasionally needs a bit of weeding too...
The boules we had to play with were bought with student funds when the court was set up by Paul Kos and the MFA peeps. For years they were kept by group members and brought to the court for play, but as folks graduated there came a point where the school asked for the boules back (and a few of our members who had their own boules moved away). I don't know if they've ever been used by existing students, but it has been nice to see folks out there again.
---
Athens - Athens Petanque ClubEdit
Former Lamorinda Petanque Club member Ron Wallach has moved to Athens and has started this new petanque group. It plays in the same location where Le Boule Dawgs used to play.
Times: Thursday 1:30-3:30, weather permitting
Location: 585 barber St Athens, GA (map) behind the 1000 Faces Coffee Shop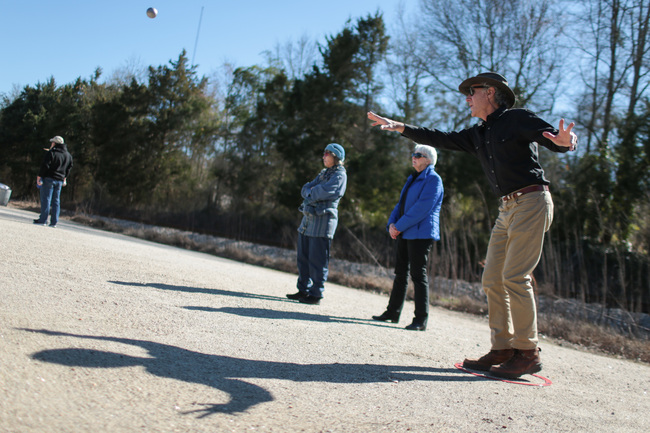 Marietta - Cyrille Cardona and "Rabelais" dinner group
Edit
French-born Cyrille Cardona and his American-born wife Courtney have a petanque court behind their house.
Their French dinner group "Rabelais" (Alexander Monnot, Pierrck Duchassin, Nicolas Philippe) meets once a month at different members homes in the Cobb area.
Cardona recently installed a pétanque court in the backyard of his home. The Cardonas often entertain around the pétanque court. They recently hosted their French dinner group, "Rabelais," made up of Francophiles and Francophones that meet once a month at different members homes in the Cobb area. "We do (Rabelais) on a Sunday afternoon so we can play pétanque," Cardona said. -- article in the Marietta Daily Journal, November 11, 2012
Ad blocker interference detected!
Wikia is a free-to-use site that makes money from advertising. We have a modified experience for viewers using ad blockers

Wikia is not accessible if you've made further modifications. Remove the custom ad blocker rule(s) and the page will load as expected.